Steam is a very popular platform for playing most computer game. These games usually require Xbox 360 controller (Xinput Controller) to play. However, if you do not have xbox 360 controller but have a normal USB PC game controller (Dinput Controller), you might still be able to play those steam games using non Xbox 360 Controller in Steam.
Fortunately, steam enables user to configure non xbox 360 controller in steam so that the controller can be used in steam game. But please note that this setting might not work for all games. You might ultimately need a xbox 360 controller if it cannot work. Alternatively, you can use a Xbox 360 controller emulator if you really want to use your normal USB PC game controller. If you like to find out more about the Xbox 360 emulator, please click here to visit my blog post on X360CE.
Instructions for Using non Xbox 360 Controller in Steam

1. This is the easier way to use the controller on steam. Do read this if the controller still does not work after configurating the controller on big picture. This method may not work for all steam game . However, it is the easiest method. The first step is to go to big picture at the top right hand corner as shown below
2. Click on the gear icon on the top right corner to go to setting as shown below.
3. Make sure your controller is already plugged in before going to Controller Settings
4. You should see a generic USB joystick under the detected controllers section. Click it so that you can start to map the correct button.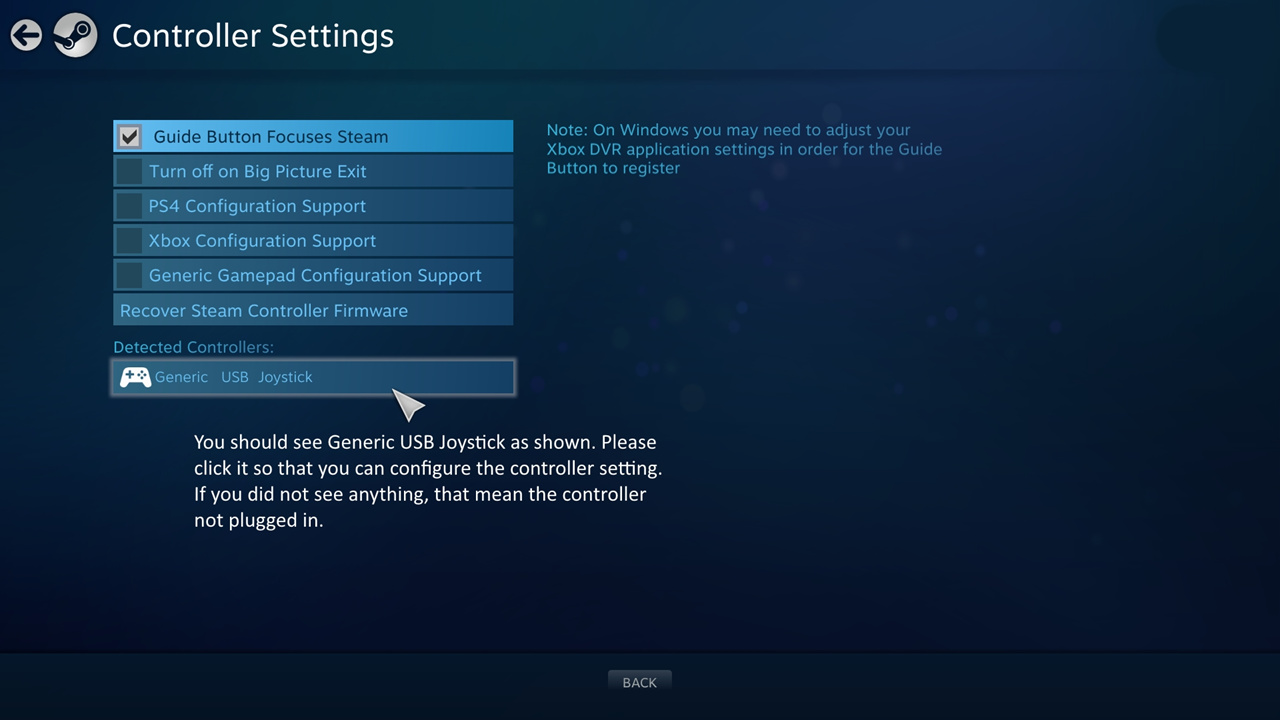 5. The below configuration is what i used for big picture. Do remember to press the mode button in the middle of the controller to activate the analog joystick. If done correctly, the red light in the middle of the controller will light up. Click save after you have finished.
6. You may have to unplug the controller and exit big picture if no controller is detected by steam. Enter big picture again and then plug in the controller. If everything is done correctly, then you should see the configured controller appearing as Generic X-input controller
If you decided to get xbox 360 controller instead to save the hassle of doing the controller configuration or just want a quick and simple solution, you can take a look at the Xinput controller below.
If you have any question or thing that you do not understand, you can contact via telegram or email. For faster response, please contact me via telegram or whatsapp. The QR code is the link to contact me via telegram. Telegram is messaging app for smartphone similar to whatapp.