Description
USB PC Game Controller for PC & Computer Games with Dual Joystick
Game Controller Tested by Seller who is also a Gamer
Play Many Games on Computer/Xbox 360 like FIFA, NBA, Street Fighter, Arcade Games
Fast Shipping as it is sold by Singapore Seller
I am a gamer who like to play games on PC/Computer. There are PC/Computer games like Sport Games (FIFA, NBA), Fighting Games (Street Fighter) and Action Games (Assassin Creed, Batman) which really require a controller so that you can fully enjoy playing the games. I have actually used this controller to play those games rather than using keyboard and mouse which will cause a lot of frustration. Thus, if you are a gamer like me, you should know the importance of a controller. Instead of buying a PC game controller from seller who do not play PC game and may not even know the product well, why not buy from someone who is also a gamer and has actually used the controller to play games?
Instructions for Using Controller on Steam
1. This is the easier way to use the controller on steam. Do read the section below if the controller still does not work after configurating the controller on big picture. This method may not work for all steam game . However, it is the easiest method. The first step is to go to big picture at the top right hand corner as shown below
2. Click on the gear icon on the top right corner to go to setting as shown below.
3. Make sure your controller is already plugged in before going to Controller Settings
4. You should see a generic USB joystick under the detected controllers section. Click it so that you can start to map the correct button.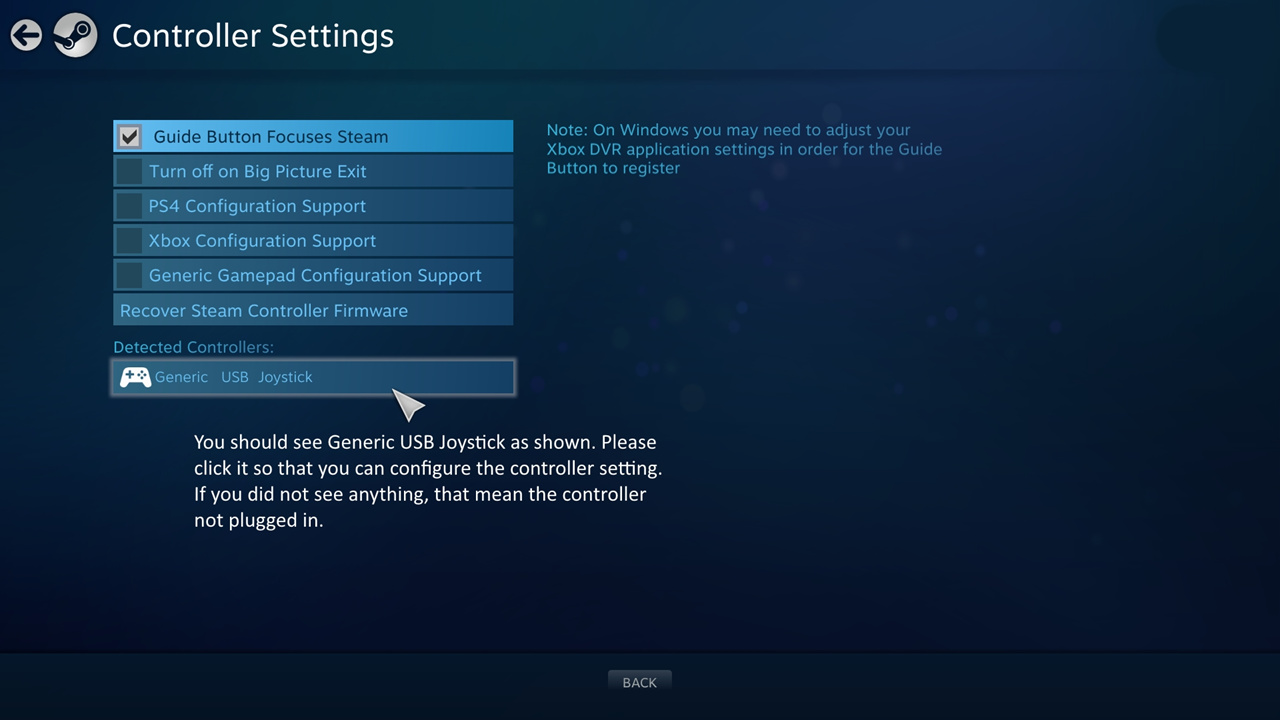 5. The below configuration is what i used for big picture. Do remember to press the mode button in the middle of the controller to activate the analog joystick. If done correctly, the red light in the middle of the controller will light up. Click save after you have finished.
6. You may have to unplug the controller and exit big picture if no controller is detected by steam. Enter big picture again and then plug in the controller. If everything is done correctly, then you should see the configured controller appearing as Generic X-input controller
I have a freeware which allows you to map the button according to your preference easily and convert the controller to be recognised as Xbox360 controller for playing PC game.
The link to download the files is as followed:
https://www.dropbox.com/s/c4mqv7pjau3a9hh/x360ce_x32.zip?dl=0 (Try this file first)
https://www.dropbox.com/s/vtckrikguom1woc/x360ce_x64.zip?dl=0 (Try this file if the first file cannot work)
To use the freeware, you have to extract the content (1 files) of the zip file into the executable file of the game (the extension is .exe). For example, if the executable file is AC4BFSP.exe, you have to extract the content into the same folder like in the printscreen below. Please click yes when asked to create X360.ini and xinput1_3.dll.
Remember to untick the Pass through for the controller to work.
green light = working
red light = controller detected but not properly configured. ( Pass through is ticked)
Then after that, you can do the mapping. Below is the mapping that i usually used.
There will be a beep sound after you start the game to inform you that the program is working and your controller will be recognised as Xbox360 controller by the computer.The above step will likely to work for most game. However, there will be certain games which require more steps. Do email me if you face problem with such game so that i can guide you on the next step.
There are 5 known games that cannot work with the freeware. They are Blazing Angels 2 Secret Missions of WWII, Brutal Legend, Front Mission Evolved, Spider-Man(TM) – Shattered Dimensions, Marvel – Ultimate Alliance. If you find the above step complicated or you want a simpler controller which can just plug and play without any setting, i am also selling Wired Xbox 360 Controller for Window. The link is here. Please do take a look. Thanks!
Vibration mode available
Suitable for USB interface 1.0/1.1/2.0/3.0
12 buttons Usb PC Game Controller (Plug and Play)
USB Plug and Play
Compatible with Windows98/ME/2000/XP/Vista/7/10
Emulator tested: Visual Boy Advance, no$GBA, MAME
Suitable for Playing of PC Action/Sport/Fighting Games like Assassin Creed Series, Devil May Cry Series, Batman Series, FIFA series and NBA series that uses XBox 360 game controller
Also suitable for playing Arcade Game emulator on PC like Metal Slug Series and Knight of Valor Series (Ideal gift for children who like to play computer game)
Testing for Controller Input (TroubleShooting)
If you want to test for the controller input after receiving the controller, you can follow the step below.
Go to control panel>hardware and sound> device and printers.
You should see a Generic USB Joystick highlighted in the printerscreen above. Right click the icon and choose Game Controller Setting.
After clicking the game controller setting, you should see the below printscreen.
Click properties and the below picture will appear.
Now try press one button at a time and see if it trigger any response. You can calibrate your controller thru this setting.
I can introduce you some games for you to test the controller. Be rest assured that the USB PC Controller will work as I have actually tried out this controller to play pc game before starting to sell them online. Do email me if you face any problem using the USB PC controller.
If you have any question or thing that you do not understand, you can contact via telegram or email. For faster response, please contact me via telegram or whatsapp. The QR code is the link to contact me via telegram. Telegram is messaging app for smartphone similar to whatapp.