Description
Camper Bot for CDC Lesson
Product Description
I was once a learner in CDC motorcycle school, thus i know the need to "camp" at the screen for the multiple lesson slot so that i can proceed without much delay. However, "camping" at the screen for the slot is very boring and might not yield much success for those popular timing and date. Time should be used for productive activities instead. Hence, I created a Camper Bot for CDC lessons so that you can use the time for other productive activities. For an extra $20 – $70 (roughly extra 2% – 7% of average of $1,000 class 2b course fee in CDC), you will be able to get your license faster in CDC by weeks or months.
I have split the camper bot into different segments to apportion the cost so that you pay for what you use. Public roads lessons (Lesson 6 – Lesson 8, Road Revision) will be harder to camp so the cost will be higher. The success rate is 90% of getting a slot if you operate the bot for 2 days from 8.30am – 12am. The bot is written in python computer language and if python can be installed, then the bot is compatible. If you are working, then you can consider using teamviewer to remotely control your camping computer from your office.
The bot is also able to camp for Class 3/3a Common pool slot. According to feedback from bot user, it is worthwhile to camp for slot as learner will cancel their pre booked slot. The success rate for detection of slot is 90% daily and it is possible to get same day slot also. With the bot, you will be able to get your license faster by weeks or months.
Requirements
The bot can only be run on Computer or Laptop. Instruction for installation will be given upon purchase. You will also need to give me your CDC learner account number (example: 00461234). Please remember to include your order id for PAYLAH payment method. Else, I might not be able to verify your payment and might lead to delay in proceeding your order.
There will not be any installation required for class 2a/2 as a unique generated link will be used for controlling the bot. Click here for the sample link
Features of Camper Bot
One Time Payment only(No Recurring Weekly/Monthly Payment)
Average 90% success rate if camp for 2 days from 8.30am – 12am
Telegram Notification is available
Captcha in the system cracked!!!
Bot will be installed in your computer for unlimited usage for camping
Can be used for camping Class 2b, 2a, 2 lessons provided that there is no change in the website
Option available for camping Class 3 and 3a Common Pool Slot. (Average 90% success rate)
Only an extra 7% of average of $1,000 class 2b course fee in CDC
For any questions regarding this bot, i can be contacted at the links below
Ability to control the refresh rate of bot
Reviews for Camper Bot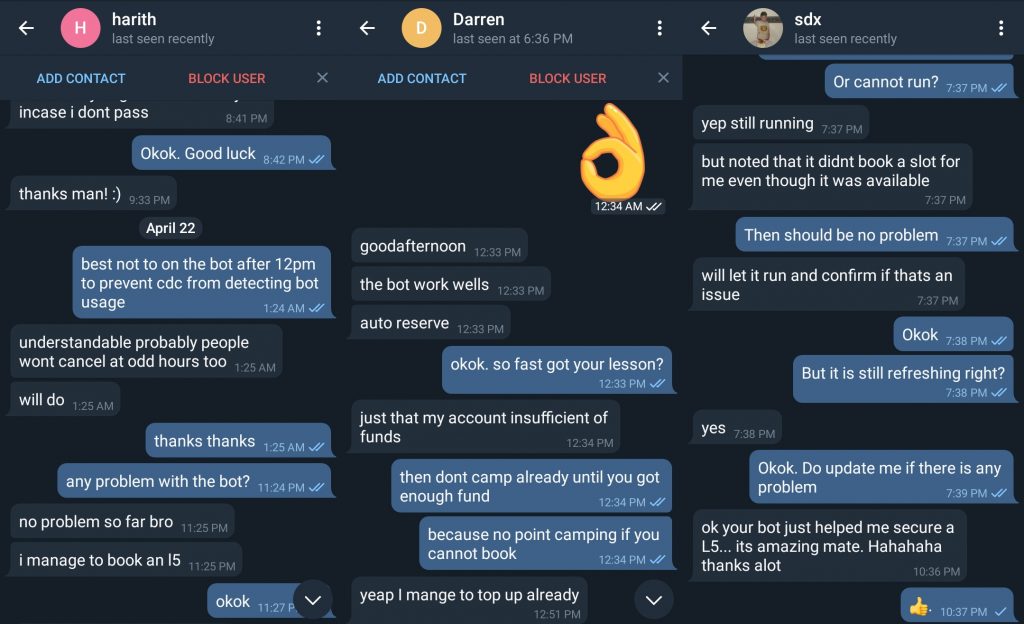 If you have any question or thing that you do not understand, you can contact via telegram or email. For faster response, please contact me via telegram or whatsapp. The QR code is the link to contact me via telegram. Telegram is messaging app for smartphone similar to whatapp.